Artificial Stupidity - @SpeedGuide Twitter account suspended for being underage
Even though SpeedGuide is legal to drink in most countries, apparently that's not good enough for Twitter

2019-01-05 19:17 by

Philip


Tags: Twitter, censorship
Twitter auto-banned us for being under-age at the time of signing up 10 years ago, wait what?!
So, we just flew into Vegas to cover CES 2019. Getting ready to ramp up our media campaign, we signed into the @Speedguide Twitter account and were prompted to enter our birth date. Since SpeedGuide.net is 19 years old, we entered that age, clicked next, and got Banned automatically with the following message:
Your account is locked
Our Terms of Service require everyone who uses Twitter to be 13 or older, and we have determined that you did not meet the minimum age requirement at the time this account was created...."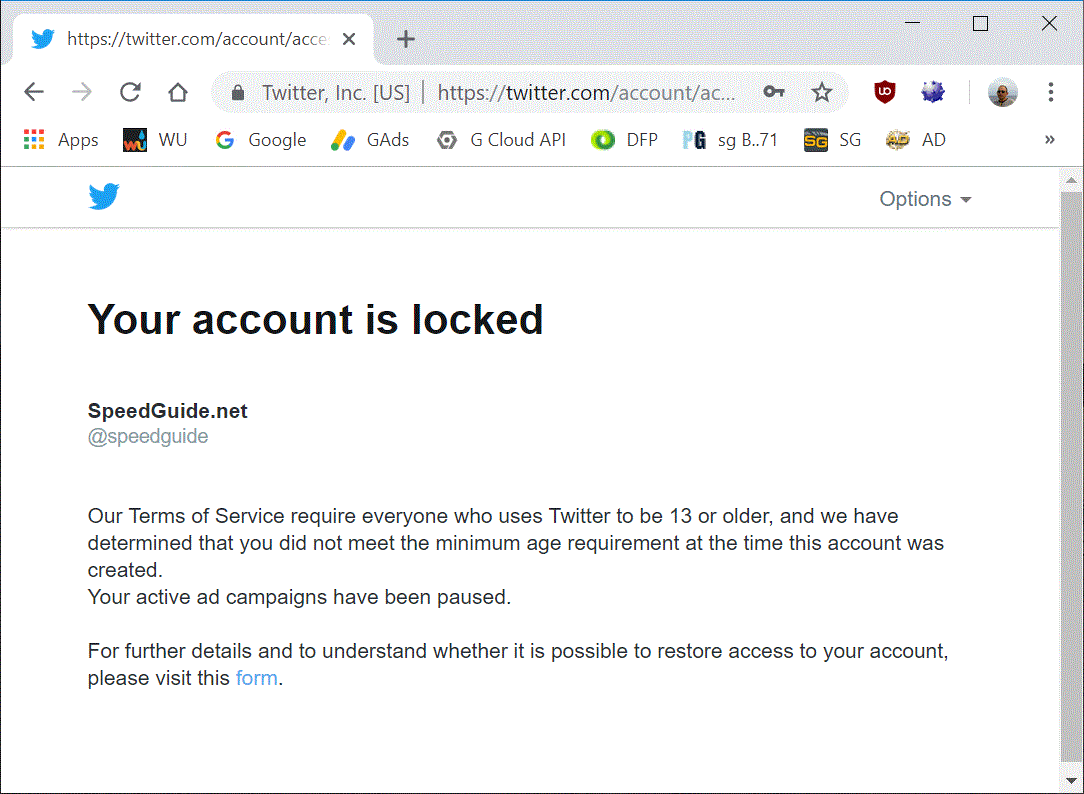 We immediately filled out a form to try and restore access to our now banned Twitter account, had to submit a picture ID of an responsible adult that was old enough when the account was created 10 years ago, etc... And we have to wait for Twitter employees to verify our age, and process us as criminals. Since they have "larger than usual volume of requests", we will have to wait for an undetermined amount of time to eventually have the account unbanned. Not very professional to auto-ban business accounts in such automated fashion in my humble opinion, is it? We've used Twitter for 10 years, have some followers, posted 2-3000 tweets, and it all evaporated because we chose 1999 as the @Speedguide birth year and tapped "Next."
So then, if we do not get our Twitter account unbanned by tomorrow, you will not be seeing tweets from us at CES Unveiled :/ We will be waiting patiently by the phone for the Twitter social media deities to restore our access.. Or we will simply be forced to use different social media outlets. Apparently SpeedGuide was not old enough website when it signed up for a Twitter account, deserved a spanking, er suspension, and its adult supervision is under review at the moment.
Update 2019-01-06: after 28 hours Tweeter verified our id and lifted the automatic suspension, so @speedguide is back!