News
Linksys Launches New Wireless AC routers
2014-10-16 16:47 by

Daniela


Tags: Linksys, router, E8350, EA9200
Linksys today announced two new routers that will help provide faster wireless networking speeds for families with multiple internet users as well as single users that use the internet for high bandwidth applications such as gaming or video streaming.
The two new wireless AC routers, the Linksys AC3200 Tri-Band Smart Wi-Fi Router (EA9200) router and the Linksys AC2400 Dual Band Wi-Fi Router (E8350) a 4X4 AC router, provide network speeds up to 3.2 Gbps and 2.4 Gbps respectively. These two new Linksys routers provide networking functionality suited for large or small environments that need the maximum performance and range for their home networks.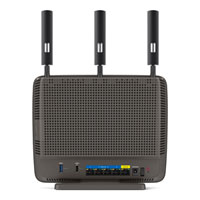 The Linksys EA9200 Tri-Band router features innovative Smart Connect technology utilizing dynamic band steering that optimizes the performance of wireless devices by balancing them across the multiple Wi-Fi bands to provide better overall coverage.
The router's six active antennas - 3 external, 3 internal (for optimal placement) provide six data streams and a dual-core 1 GHz CPU and 3 integrated co-processors for a total of 2.96GHz of penta-core processing power.
Four Gigabit ports offer a wired connection, while beamforming technology focuses and strengthens the Wi-Fi signal to Wireless-AC devices.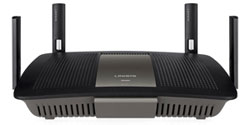 The Linksys AC2400 Dual-Band Gigabit Wi-Fi Router offers the fastest Wi-Fi technology for a seamless entertainment experience. This 4x4 AC router is the latest in Wireless-AC, delivering four simultaneous, independent data streams to devices on the network for speeds of up to 2.4 Gbps. The AC2400 helps provide the optimal overall performance to single devices that require high band such as video streaming or online gaming. The AC2400 features a 1.4 GHz CPU, four Gigabit ports, and an eSATA port with data transfer speeds of up to 3 Gbps.
Read more -here-