Apple launches larger screen iPhone 6, iWatch and new payment service
2014-09-09 17:42 by

Daniela


Tags: Apple, iPhone, Apple Watch
In front of a packed auditorium at the Flint Center for the Performing Arts, California, today Apple unveiled its first smartwatch. The device's introduction upstaged the company's two new, larger iPhones, which won't just have bigger screens; they'll have a new, horizontal viewing mode to take advantage of the larger display.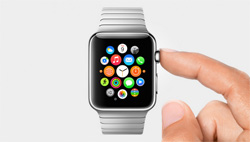 The smartwatch, named the Apple Watch, is a miniature computer strapped around the wrist. Apps are displayed on the face of the watch. The digital crown, the small button on the side of the watch, acts as a home button and a navigator. You can also interact with apps with a swipe across the screen or a gentle tap. Video, messaging, health monitoring, and others features appear under a tough yet flexible sapphire screen. It also has Apple Pay, the company's new digital wallet system, built in.
Apple said the Apple Watch would have a strong focus on health. It highlighted an app called Fitness that it made to track statistics for different exercises, like bicycling or running. An accelerometer tracks the movements, and a heart rate sensor helps measure the intensity of the workouts.
Apple Watch can also act as a GPS device, not only showing you the way on the watch face, but nudging you on your wrist as you navigate with an "invisible guide" called "Taptic touch." The watch will start at $349 and be available in early 2015. It works through a connection to Apple's new iPhone 6 and 6 Plus as well as the older iPhone 5, 5c and 5s.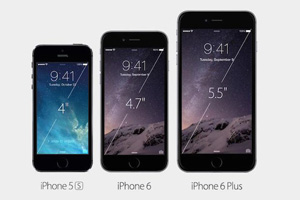 The iPhone 6 and iPhone 6 Plus feature 4.7-inch and 5.5-inch screens respectively, as well as an improved Retina HD display. The smartphones also get new brains to go with their new look. Powering the new phones are a new generation A8 chip, which boasts a smaller footprint than its predecessor and a 25 percent increase in speed, according to Apple.
Pricing for the iPhone 6 starts at $199 for a 16GB version or $299 for the iPhone 6 Plus under contract. Contract pricing for 128GB versions goes up to $399 for the iPhone 6 and $499 for the iPhone 6 Plus. Meanwhile, the iPhone 5c will be free while the iPhone 5S will cost $99 with a contract.
Apple also unveiled a new service called Apple Pay. The service boasts a simple payment interface that uses near field communication (NFC) and its Touch ID feature on the iPhone.By placing your phone next a compatible payment module and holding your thumb on the Touch ID button of your phone, you can pay for products and services at participating merchants. Companies on board with the new Apple Pay service include McDonald's, Whole Foods and Disney.
Read more -here-